Sciatica Pain Relief

If you are dealing with sciatic nerve pain and are wondering about chronic sciatica treatment, The Pain Center can help.
Nerve pain in the back and lower limbs is a common complaint, especially among middle-aged adults. In sciatic conditions, pain typically radiates from the lower back down one or both legs. Sciatica, particularly chronic sciatica, can be a symptom of an underlying physical condition, in which the sciatic nerve is compressed and/or irritated.
If you are seeking sciatic nerve pain relief, or suspect you may have a pinched sciatic nerve, you will be glad to know there are many treatment options. The Pain Center is here to offer you guidance, support, and a range of treatments.
Causes of Sciatica
The sciatic nerve is the largest nerve in the body and typically starts from the L4-S3 segments of the lumbosacral plexus. The nerve runs from the lower back down the back of the legs.
Sciatic nerve pain can be mild, or can be severe enough to interfere with your daily activities. A herniated disc or bone spur that presses on a nerve root can often cause sciatic nerve pain. Other common causes include, but are not limited to:
Lumbar herniated disc
Spinal stenosis (narrowing of the spinal canal due to growth or bulging disc)
Degenerative disc disease
Spondylolisthesis (tiny stress fracture that allows the vertebrae to move)
Piriformis syndrome
Sacroiliac joint dysfunction
Trauma
Arthritis can worsen chronic sciatica symptoms. Pregnancy can cause temporary symptoms of sciatica. Even a simple muscle strain can inflame tissues and cause short-term sciatic nerve pain. Your doctor or sciatica specialist can help you understand the source of your pain and any contributing factors.
Sciatica Symptoms and Diagnosis
Sciatic nerve irritation can cause sensations that range from tingling or a dull ache to sudden or sharp pain that prohibits your normal activity. Often, sciatica only affects one side of the body. Pain typically centers in the back, hip and buttocks area, and legs.the lumbosacral plexus. The nerve runs from the lower back down the back of the legs.
Risk factors for developing sciatica include smoking, which can contribute to degeneration of the discs, and obesity. Other risk factors are age-related changes to the spine such as arthritis, trauma, and prolonged sitting. the lumbosacral plexus. The nerve runs from the lower back down the back of the legs.
Sciatic nerve pain can range from mild to severe. Patients often describe the pain as sharp or searing, but leg numbness and a "pins and needles" feeling are also common. Sciatic pain can be infrequent or constant, and can sometimes be relieved by changing positions. Severe sciatica can make it almost impossible to walk. Other symptoms may include:
A "burning" feeling and/or shooting "electric shock"
Weakness in the leg, foot, or toes
Limping or difficulty moving a lower limb
Constant pain in one leg or buttock
Pain that gets worse when you are sitting down
Specialties that can help address sciatic nerve pain include general and family medicine, internal medicine, orthopedics, pain management, physical therapists, and chiropractors, among other groups.
To diagnose the source of your pain, your doctor or sciatica specialist will ask you questions about your health and history and do a physical examination. Other tests that can help diagnose the source of your chronic sciatica pain include X-rays, MRI scan, CT scan, and blood tests.
How to Treat Sciatica
Looking for ways to ease sciatic nerve pain? There are many treatment options and a range of therapeutic approaches to treating sciatica.
The best pain relief for sciatica will depend on your individual situation, such as the cause and severity of your pain. Sciatica treatment options such as ice, rest, muscle relaxants and over-the counter pain medications may give you sciatic nerve relief. Prescription anti-inflammatory pain medications (NSAIDS) may be prescribed if necessary. Sometimes additional therapy is required, such as physical therapy, steroid injections, and/or nerve pain medications, for chronic sciatica. Physical exercise is an important way to help improve sciatica through self-care.
Strengthening exercises and stretching for Sciatica

Low impact exercises and stretching can help strengthen the spine and surrounding muscles. Sometimes steroid injections can provide enough pain relief to allow you to do exercises that strengthen your back and abdomen and alleviate sciatic nerve pain longer-term.

Stretches can focus on muscles that cause sciatic pain, such as hamstring stretches.
Medication Management

The Pain Center takes a conservative approach with medication management. We try to limit medications to help avoid issues with dependence. There are situations where medications can be appropriate. In these cases, medicines can be considered such as acetaminophen and nonsteroidal anti-inflammatory drugs (NSAIDS) such as naproxen and ibuprofen, opiate pain relievers, muscle relaxants, and antidepressants.
Epidural steroid injections for Sciatica

Steroid injections can provide pain relief from chronic sciatica for a short-term period of time (typically three to four months). Steroid injections can be combined with other therapies for maximum benefit, such as with physical therapy and exercise. Epidural steroid injections do not work for all patients with chronic sciatica.
Nerve Blocks

Therapeutic nerve blocks contain local pain medications that can control acute pain.
Radiofrequency Ablation (Rhizotomy)

A minimally invasive procedure performed under fluoroscopy (live x-ray) that destroys the nerve fibers in the back that carry pain signals. This procedure can be performed in the neck, middle or lower back.
Spinal cord stimulation for sciatic nerve pain

Implantable devices for pain management can be considered if other therapies are not effective. These implantable devices deliver mild electrical pulses to block the transmission of pain.
Surgery for sciatica

Surgery such as a microdiscectomy or lumbar laminectomy is an option for sciatica treatment but is rarely required. Nonsurgical treatment options should be used first to try to manage the sciatic nerve pain.
In a more natural approach, or in combination with medical procedures, chiropractic care, acupuncture, and massage therapy can help with sciatic nerve pain for some patients. Use of a transcutaneous nerve stimulator (TENS unit) may provide relief for some patients.
Contact The Pain Center today to learn more about how we can help you effectively manage your chronic sciatica pain.
When Further Sciatica Treatment is Required
Any further treatments required are based on the nature and severity of the underlying problem. If there is something that can be addressed by a surgeon, we will refer you to a specialist.
Some additional interventions can be performed at The Pain Center. For example, we sometimes see patients who have already had a discectomy, laminectomy, or fusion. If a patient does not respond to minimally invasive treatments, we consider aggressive interventions such as spinal cord stimulation.
Commonly Asked Questions about Sciatica
How do you cure sciatica?

Non-surgical options are appropriate for most patients. Only a small percentage of patients are candidates for surgery. Some early options include physical therapy and rehabilitation, which can reduce pain for patients. Chiropractic treatment can be used as part of a multidisciplinary care model. Other conservative therapies include acupuncture, exercise therapy, manipulation, postural approaches, and cognitive behavioral therapy.
What is the best treatment for upper arm pain symptoms?

Sciatica is common amongst people in middle age, and occurs most often between the ages of 40 – 50.
What causes sciatic nerve pain?

A sudden injury is often not the cause of sciatica, which can develop slowly over time.
How long does it take to cure sciatica?

Most people experience improvement within a few weeks or months. Surgery is rarely necessary.
Is sciatica ever severe?

Sometimes the symptoms of sciatica can be severe enough to require immediate medical attention. For example, if you have leg weakness or bowel/bladder dysfunction, or if your sciatic pain began following a traumatic injury, see your doctor right away. In addition, if your symptoms worsen, or if you have symptoms that affect both legs rather than just one, get immediate medical care. Very rarely, infections or tumors can cause sciatic nerve pain.

It is important that the underlying cause of your sciatic nerve pain is accurately diagnosed so that you can be properly treated.
Is surgery ever required to treat sciatic nerve pain?

Self-care and nonsurgical treatments are usually sufficient to treat sciatic nerve pain. In rare cases, for severe pain or dysfunction, surgery can be considered and there are sciatica surgery options available to appropriate patients.
Can exercise help with sciatic pain symptoms?

If you are coping with chronic sciatica, regular exercise is very helpful in improving pain symptoms. Consult with your doctor or sciatica specialist to learn what exercises are appropriate for your individual condition.
What causes sciatic nerve pain?

Sciatica can be a symptom of a range of underlying physical conditions in which the sciatic nerve is compressed and/or irritated. Common causes include lumbar herniated disc and spinal stenosis.
How long does sciatic pain last?

Sciatic nerve pain can last short or long periods, depending upon the underlying cause. Short-term episodes of sciatica can last for several weeks. Longer-term or chronic sciatica is often associated with degeneration of the spine. More invasive interventions may be required for severe and chronic nerve pain.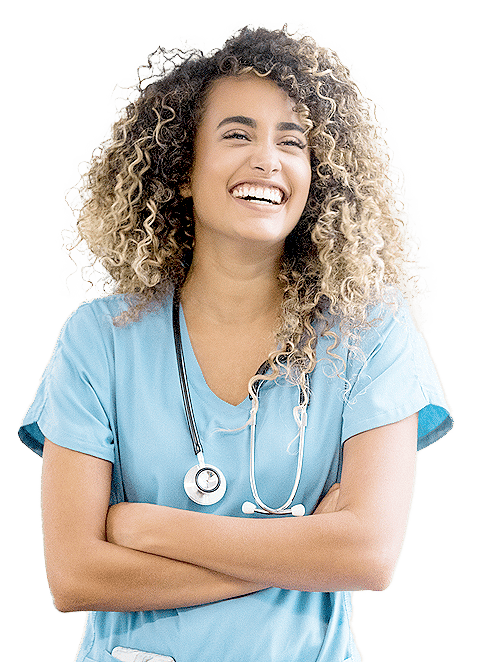 Get the care you need within 24 hours
*
We know when you're looking for relief for your chronic pain, you can't wait any longer than you already have. This is why we can schedule you with an appointment within 24 hours at most of our pain centers across the Valley, so you can start your journey to life-long pain relief as soon as tomorrow.